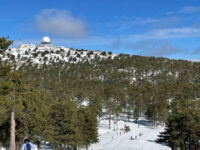 Another month, another newsletter.
Welcome to March, where the mornings are getting colder and the snow is getting ever so slightly closer!
Work Parties
There are still two pre-season work parties available for all comers to enjoy a smoke-o, maybe a roaring fire, some good company – and do a little bit of lodge maintenance before the season is upon us!
Work Party 2 starting the 1st of April and Work Party 3 starting the 20th of May are calling for volunteers.  Please contact Stephan Belacic  if you can help for all or part of the weekend.  Volunteers receive accommodation booking credits for the number of days worked. 
2022 Winter Season bookings
Bookings open on Sunday the 24th of April for round 1. See the 2022/23 Booking Rules for further details. Those members whose bookings were cancelled due to Covid lockdowns have received a financial credit in their account. This can be used any to book accommodation as per the booking rules, or pay subscription fees. Please note that cancelled booking from 2021 have not been automatically transferred across to the 2022 ski season.
Booking system testing will begin soon. As testing must be done with a live system members may see booking rounds open and close and bookings being made during the season. Please do not try and make booking for the winter season as they will be deleted after testing is complete.
Still on the subject of bookings, you will see that the 16th and 17th of September is unavailable for bookings. This is for the annual Smiggins Bowl and those brave souls who compete in it. More information will be available about joining the Gunuma team as the season progresses.
While we dream in Australia of the coming winter season, here is some inspiration from Cyprus skiing from Fiona McKergow – the image at the top of this newsletter is also from Fiona.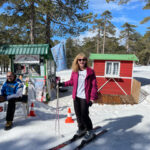 Ski Cyprus!
Week 5 in Cyprus and I decided to take trip to Mt Olympus in the Troodos Mountains for an end-of-season , spring snow session.
1.5hrs from Nicosia, and you can see the sea from the top.
Only one run open (about 300m?) with a T Bar manned by 2 lifties – older men puffing away on cigarettes.
Day ticket costs €20/€25 (member /non member – of CyprusSkiCkub) and gear costs a whopping €10 to hire but limited skis and dodgy quality.
I hired the skis as I wasn't sure how snow would be (it is a rocky island) and wasn't going to ruin my own set.
5 runs and it gets boring – but hey, not often you get to ski on a small island in the middle of the eastern Mediterranean.