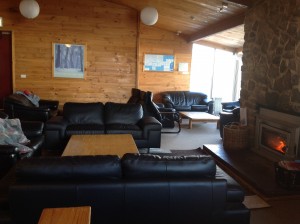 Gunuma Lodge has a communal, family atmosphere with shared spaces to relax both upstairs and downstairs.
Gunuma Lodge is a non-smoking lodge. This includes all internal areas, the front balcony and back deck.
Each room is allocated a kitchen cupboard, fridge space and snow equipment storage for the duration of your stay. For more details read about what is 'Included in your booking'.
Internet access is available.
Upstairs
Lounge room
Contains multiple couches overlooking the Smiggins ski slopes, with an iPod docking stereo & cosy fireplace.
Communal kitchen
The kitchen has with 4 stove tops and sink areas, several ovens, cookware, crockery & utensils. Members and guests are expected to clean and pack away food and cooking utensils after cooking to make way for others.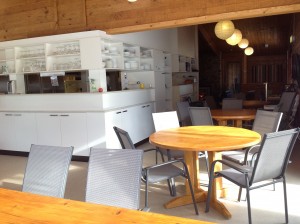 Dining room
Seats up to 40 people.
Outdoor BBQ
A BBQ is available for members and guests on the rear deck. Please ensure that it is properly cleaned after each use including replacing the drip tray. If the gas bottle is empty please notify the House Captain/Winter House Manager who will arrange a replacement.
Outdoor tables
There are tables on the front balcony & back deck.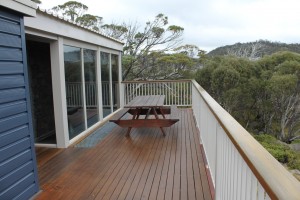 Downstairs
TV room with a billiard table
Please ensure all the balls are pocketed and the cue sticks are returned to the wall holder after you have finished playing.  Do not try and block the pockets to prevent the balls from going down.  Obey the rules and play properly and safely.  Sitting or placing drinks on the pool table is not permitted.
Children's playroom
Contains large soft building blocks (great for cubby houses), a TV, DVD & blackboard.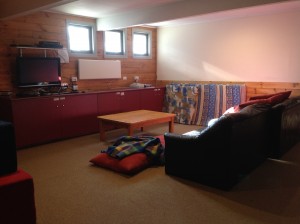 Laundry
A laundry is located downstairs adjacent to the games room and is equipped with a washing machine and clothes dryer. Please restrict your washing to an absolute minimum as it adds considerably to the overall running costs of the lodge.  Set the operation to cold water and only use the front loader detergent provided.
Sauna
The sauna is available for use by all guests. Between 4.00pm and 6.00pm you are required to be 'decently' covered when using the sauna. Outside these hours there are no dress rules. The sauna cannot be reserved for individual use. For hygiene reasons please place a towel on the bench to sit on.
Ski, Boot and Drying Rooms
These rooms are provided for guests to store their ski gear during their stay. Please do not bring wet items such as boots into other parts of the lodge. Place your gear in the numbered space that matches your allocated room number.
Temporary Storage Room
Located near the front entrance (from the front carpark) this room is to assist incoming members with temporary storage of their luggage until their room becomes available.
Should you have any queries on arrival – please ask the Winter House Manager or Summer House Captain if available, or one of Gunuma's friendly members. The lodge rules also contains some more useful information.
Gunuma is a self-catering lodge with communal facilities. Here's a short checklist of what you need to bring to make your stay comfortable.
Loads of cheer!
Food and drinks. Gunuma is a self-catering lodge – the nearest supermarket is in Jindabyne. During Winter basic essentials can be purchased in Smiggins or Perisher.
Sheets or a sleeping bag. Most rooms consist of two single beds. These can be pulled together to make a double bed. Blankets are supplied.
Pillow case. Each room is equipped with pillows.
Towel & personal toiletry items
Snow gear (in winter)
Provided for your night/s accommodation is (per person):
one single bed (most rooms has two single beds)
Woollen Blankets (single & queen)
Pillows (own pillow case required)
Cupboards space for clothing (including hanging)
Additionally, each room allocation includes:
1 pantry cupboard space (in kitchen)
1 fridge shelf (in kitchen)
If you are sharing a room, then these provisions are to be shared.
There is one male and one female bathroom in each wing of five rooms. Other communal facilities include the kitchen, bbq, balconies, dining and lounge rooms, children's room, tv room and snow sports equipment storage.