Your Room
There should be blankets and pillows in each room.
Guests are to provide their own bed linen.
If you require more blankets or pillows ask the House Captain/WHM, it may be possible to arrange.
Electric Blankets are PROHIBITED in the Lodge.
Room Heater
Do not switch off the heater at the power point or side of the unit. All adjustments are made via the thermostat on the wall in between the beds.
The heaters in the bedrooms are thermostatically controlled. Adjust the heater using the thermostat on the wall as required. Do not place clothes over the heater to dry as it may cause a fire. Before departure, to prevent pipes freezing, set the thermostat to 10 Celsius.
Internet Access
Internet access is available. A wireless Internet service is provided.
Please check with the WHM if you have difficulty in obtaining a connection.
Housekeeping
Room Chores
The Lodge is kept clean and tidy through a cooperative effort.
Each room is allocated a chore – refer to back of room door. These are also listed on the notice board in the dining room. Parents must ensure that the chore allocated to a child's room is completed. During the Winter Season*, a professional cleaner is employed but nevertheless members and guests are required to carry out their allocated chores, even if their stay is less than the frequency with which the chore is normally performed. If the Lodge is not fully occupied, essential chores, such as emptying kitchen rubbish bins will need to be completed in a collaborative manner.
Kitchen
The communal kitchen is well equipped with stoves, ovens, cooking pots, various appliances, crockery and cutlery. A kitchen cupboard and fridge shelf are allocated to each room. Extra supplies can be stored in the freezer or over-flow fridge in the downstairs laundry.
During your stay As soon as you have enjoyed your meal, please wash, dry and put away dishes, pots and pans. Clean your cook top and bench ready for other guests to use.
The kitchen is to be left clean and tidy, with all washing up put away, after each meal and please be considerate of others waiting to prepare meals and use the dining room.
Please keep children out of the kitchen for safety reasons.
Garbage
During winter all garbage and recycling material is collected by NPWS from thetemporary storage bin. Outside of the winter season garbage should be taken to Perisher Waste Station and not left in the lodge when you leave. Please recycle where possible.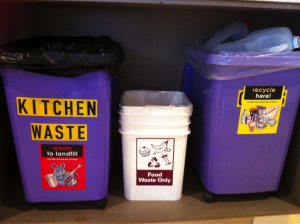 Paper and cardboard
A small amount of paper and cardboard is required for the fire. Excess paper and cardboard boxes should be put in the correct garbage bag.