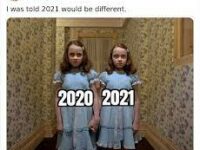 COVID related information
Please check and comply with current Government COVID requirements before any planned stay at Gunuma Lodge.
We follow NSW Government rules. The most recent restrictions are available here: https://www.nsw.gov.au/covid-19.
For those travelling outside of NSW, links to State/Territory specific restrictions are available below: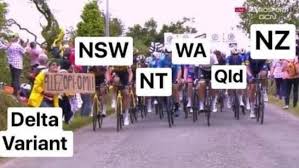 If it is safe for you to come to Gunuma:
Please familiarise yourself with the the Gunuma Lodge COVID safe plan – Winter.
Bring a supply of FACE MASKS as these must be worn at all times in common areas, except when eating and drinking.
Bring your BEDDING, PILLOWS and TEA TOWELS. Recognising the COVID risk, guests that arrive without these items will not be permitted to stay at Gunuma.
Thank you for following the instructions of the Winter House Manager (WHM) in relation to the number of guests simultaneously allowed in common areas, and the additional chores required due to the pandemic.
No casual visitors are permitted at the Lodge to reduce the risk to guests.
A QR code will be positioned at the front and back doors and at the WHM's desk. This is for requested visitors i.e. cleaners, trades people. People who are checked in and staying overnight are exempted from needing to continually scan on entry and exit during their stay.
If your scheduled (and re-scheduled) trips have been impacted by the outbreak:
Please make the call on your situation per hot spots (venues), lock down or stay at home restrictions and cancel your bookings as early as possible.
Waitlist Bookings: If you have a waitlisted booking, could you please go ahead and CANCEL it if you no longer plan to visit.  Most members cancelled their 'bookings' but it is easy to forget those you might have on the waitlist.  These are not charged, but it makes it tricky for me to know who still wants a room if you are still on the waitlist but can't actually travel. This would help me immensely when attempting to re book rooms. 
Refunds:  At the July Gunuma Committee Meeting it was decided that  any cancellation prior to a stay, for any reason, will receive a full refund for the Winter Period this year 2021. After the October season end the cancellation policy will revert to the standard as per the Booking Rules. Renae is compiling a list of members who require refunds. She needs to know if you would like this returned to your bank account OR left in credit for future use.  If she does not receive an EMAIL (admin@gunumalodge.com.au) from affected members with the following details, the default will be a credit to your account in the Booking System: Name, Member Number, "Please refund into this account : " Account Name, BSB, Account Number. If you have a credit balance, that amount will be refunded into your account.  If you had a work party credit, this will not be refunded.  Only the amount you paid to the lodge for your booking will be refunded. 
Work Party 3 Report from Wal Sheehan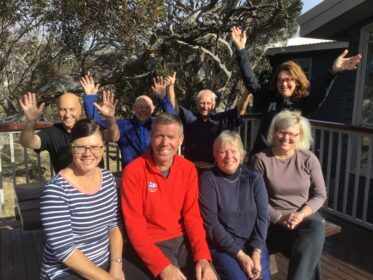 This Work Party was held over the weekend prior to the season opening (June 4-6). A small team of 9, which included 5 members, attended the work party and not only made the Lodge COVID-compliant, but also managed to fix those twenty odd jobs that needed to be done as well.  We also had a lot of fun and a great chance to rekindle some friendships from past ski seasons.
Yes "many hands make light work".

Well, we needed those hands as we washed and folded the bed linen, and then stored all the blankets, pillows and pillow slips in the lofts in Rooms 18,19 & 20. Never knew how many blankets we had! So be aware if you are coming to the Lodge this ski season, bring your own bed linen!! Otherwise, you will be cold!!!
Other noticeable achievements at the work party were: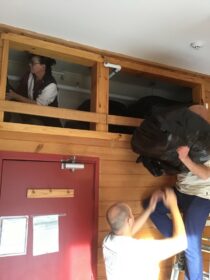 COVID signs and sprays have been placed in the common areas and where we enter and exit the building. Very much the same as you have in your local stores these days, I am afraid.
The

Room Chores

have been altered to reflect a few extra duties that are required to be done to keep us COVID compliant, i.e., more sanitizing, spacing requirements, cleaning as you go, and, importantly a visible recording that chores have been done on a daily basis in case the lodge is inspected.  It is good to have a COVID plan, but the Lodge needs to demonstrate compliance measures. I am sure members will understand. 
The

new additional freezer

was delivered and installed to increase members' ability to bring frozen or prepared meals to take pressure off the Kitchen, given that COVID restrictions only allow 6 people in the kitchen at any one time. The Lodge now have two freezers and an additional fridge in the laundry room. Hope this helps with your planning.
The

TV in the children's playroom has been replaced

and the old TV and DVD player removed.
The

pool table has been refurbished

and the torn felt is no longer!!! Hopefully the local knowledge regarding which way the ball curves will now be a thing of the past!
To take the pressure off the Ski room,

a large metal box was installed on the front landing to take all the Toboggans

. No longer will we have trip hazard and melting snow on the ski room floor.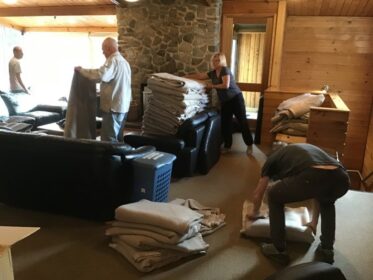 At the end of the work party weekend, the Lodge is ready now for the opening of the season on the Queen's Birthday weekend. The lodge is in great condition, firebox is full and from what I hear, the snow is about to fall!
Hazard warning: snow and icicles may fall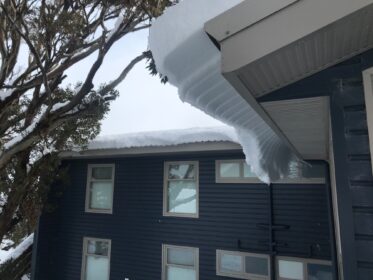 Please be aware that snow accumulates on, and impressive icicles can form from, the Lodge roof. It is important that snow person / fort etc. building by children is away from under these areas, especially towards the end of the day.
Have you seen this book?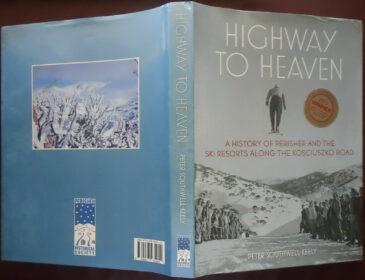 A copy of Highway to Heaven. A History of Perisher & the Ski Resorts along the Kosciuszko Road by Peter Southwell-Keely, was presented to the Lodge by the Perisher Historical Society at the time of publication in 2013.
It has been missing from the Lodge bookshelf for over a year. Would you please have a look on your shelves at home if you think you may have borrowed it to read.
If you locate the book or know its whereabouts, please let Renae (admin@gunumalodge.com.au) know so that we can arrange for its return. It is a wonderful resource and we would like all members and their guests to have the opportunity to enjoy it. Thank you.
Furry Critters – No baits permitted
Our Lodge Environment Manager, Vanessa Palmer has been in contact with the NSW National Parks & Wildlife Service. Members are to note that any issues with furry critters need to be managed appropriately…even if you think it is a mouse! There are forms to complete before any action is taken.
Only the Elliot traps (there are some in the Lodge) are to be used, and only when there are people staying in the Lodge to monitor them.
If we catch anything, please contact Marion Battishall, the NPWS Environment Liaison Officer on 0418 689 250. She will assist with identification of small mammals (and release plan) and rodents (control plan).

SAP – COMMUNITY ADVISORY GROUP MEETINGS 
Dear Community Advisory Group members
We would firstly like to thank you for your support of the draft Master Plan and for your understanding while we refine our consultation program to work within current COVID restrictions.
We are pleased that Jessica Henderson-Wilson and James Bolton, both from our Wagga Wagga office, will be in Jindabyne on 27, 28 and 29 July and on 10, 11 and 12 August to conduct small group community, business and National Park focussed consultation sessions.
You are welcome to register for any of the other sessions that are advertised on our website.  You will also find the recording of the 14 July webinar on our website and the FAQs will be posted up shortly.
Please don't hesitate to get in contact with us if you have any questions.
Melinda Donaldson, Project Officer, Special Activation Precincts
Planning and Assessment | Department of Planning, Industry and Environment
T 02 8289 6743  |  E  melinda.donaldson@planning.nsw.gov.au

KNP PLAN OF MANAGEMENT – EXTENSION 
The period of public exhibition of the Draft Amendment to the Kosciuszko National Park Plan of Management and draft precinct plans for Yarrangobilly Caves and Currango Homestead have been extended from 16 August to 23 August 2021.
The draft amendment and precinct plans can be viewed at www.environment.nsw.gov.au/get-involved/have-your-say or NPWS Offices in Jindabyne (46 Kosciuszko Road) or Tumut (4A Adelong Drive). The existing plan of management is located at www.environment.nsw.gov.au/research-and-publications/publications-search/kosciuszko-national-park-plan-of-management. It is recommended that readers of the draft amendment do so in reference to the existing plan.
You are invited to provide feedback on the draft plan by sending a written submission via:
Written submissions must be received by 23 August 2021. Your submission will be read by NPWS staff and provided to two advisory bodies. See www.environment.nsw.gov.au/help/privacy.htm for information on how we will treat any personal information you provide.
If you have any questions about the park or the draft plan, please contact me at npws.parkplanning@environment.nsw.gov.au.
Andrew Growcock, Manager Planning, Evaluation & Assessment, NSW National Parks and Wildlife Service